MD-80 Feature list updated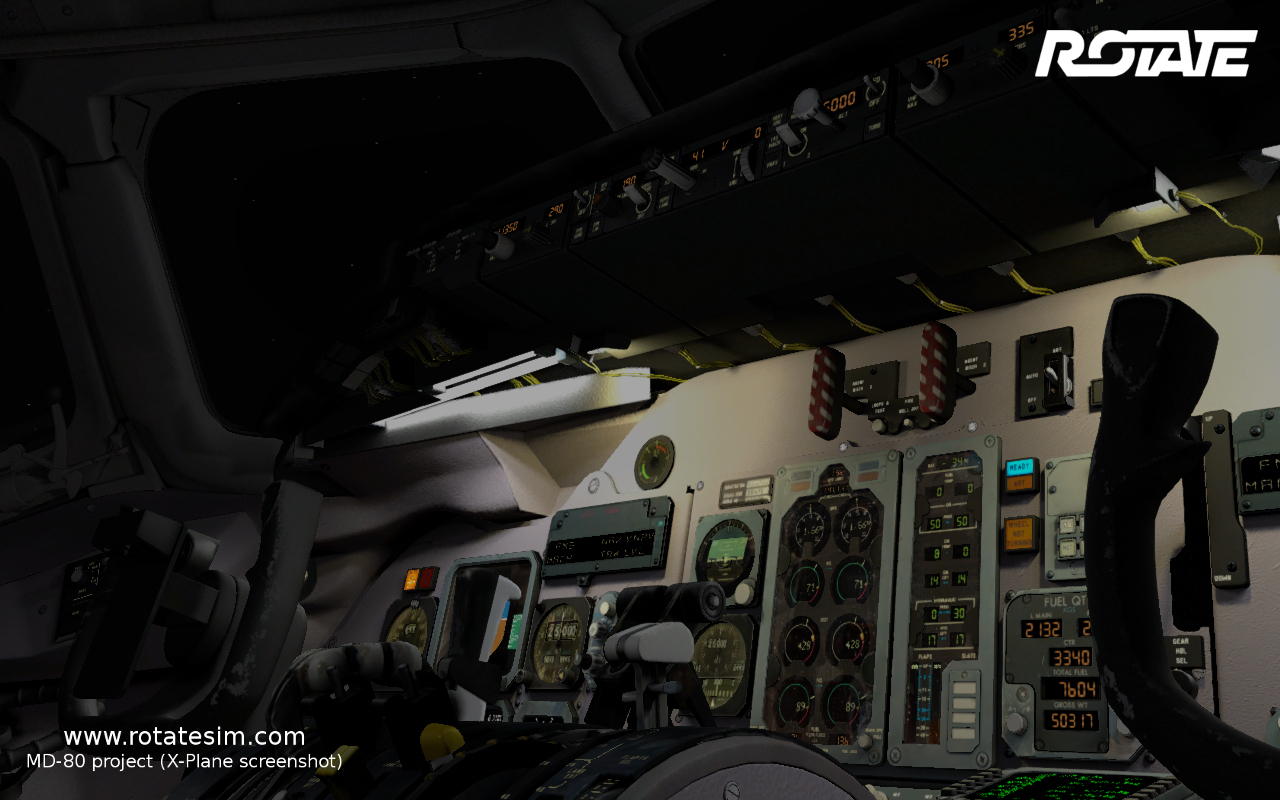 We can now present you the updated feature list, as we promised some time ago. The list is not complete yet, as we are still working on it, and the features listed might still change.
Flight characteristics:
Precise flight model, developed with the help of two MD-80 pilots.
Fine tuned engine performance.
Custom systems. This list includes only those systems that have been/are being developed for the MD-80, that is to say, only the custom systems are listed here. Characteristics of the aircraft that remain as they are in X Plane by default are not listed.
Engines:
Engine starting and ignition system
Thrust reversers
Thrust rating panel
Electrical system:
APU power system with simulated startup logic
AC/DC two buses generating and distribution system
AC/DC loads and x-tie
Battery and bus monitor system
Emergency power system
Ground power
Pneumatic system:
Ground operation pneumatics
In-flight pneumatics
X-feed domain logic and pressure indicator
AC distribution pressure and temperature indicators
AC system with cockpit and cabin temperature controls
Cabin pressure control panel
Auto and manual modes with take off and landing controls
Automatic flight, navigation and FMS:
IRS alignment rutine, NAV and ATT modes
Improved autopilot with specific modes
Speed modes: SPD and MACH sel. EPR LIM. FMS OVRD
Navigation: NAV, VOR/LOC, ILS
Vertical navigation: VERT SPD, IAS/MACH, VNAV, ALT HLD
All autopilot readouts correctly simulated
Flight mode annunciator
All EPR modes and performance management tuned up to feel like home
Flight planing, navigation, performance management and airplane guidance.
FMS pages: IDENT; POS INIT with IRS position; RTE with option for VIA and DIRECT selection and discountinuity detection; LEGS with insertion and deletion capabilities; DIRect TO waypoint; DEPartures and ARRivals pages with SIDs and STARs (external database); PERF INIT with fuel loads, cost index and altitude realistic calculations; ECON CLB with estimated times and restrictions; ECON CRZ with stepping capabilities; ECON PATH and SPD DEScent modes with deviation monitoring and DES NOW option for early descent; TAKEOFF REF and APPROACH REF with automatic Vs calculation; N1 LIM monitoring page.
Custom PFD and ND
Accurate navigation instruments and displays
Controls:
Flap handle with TO mode selecction wheel
Vertical trim control with takeoff condition computer
Hyperrealistic visuals:
Highly detailed 3D cockpit, passenger cabin and exterior model, with accurate animations
Precise wing flex animation
Thorough HD texture work
Lights:
Cockpit flood lamps and thunderstorm lights
Cockpit instrument, text and digital lights
Panel flood lights
Overhead panel flood light
Wing lights with off, on and deployed positions, and nose lights
Nav, strobe and anti-collision lights
Exterior flood lights, wing and nacelle lights.
Custom sounds, including engines, cockpit sounds, "B. Betty" and systems