Rotate MD-80 v1.11 is available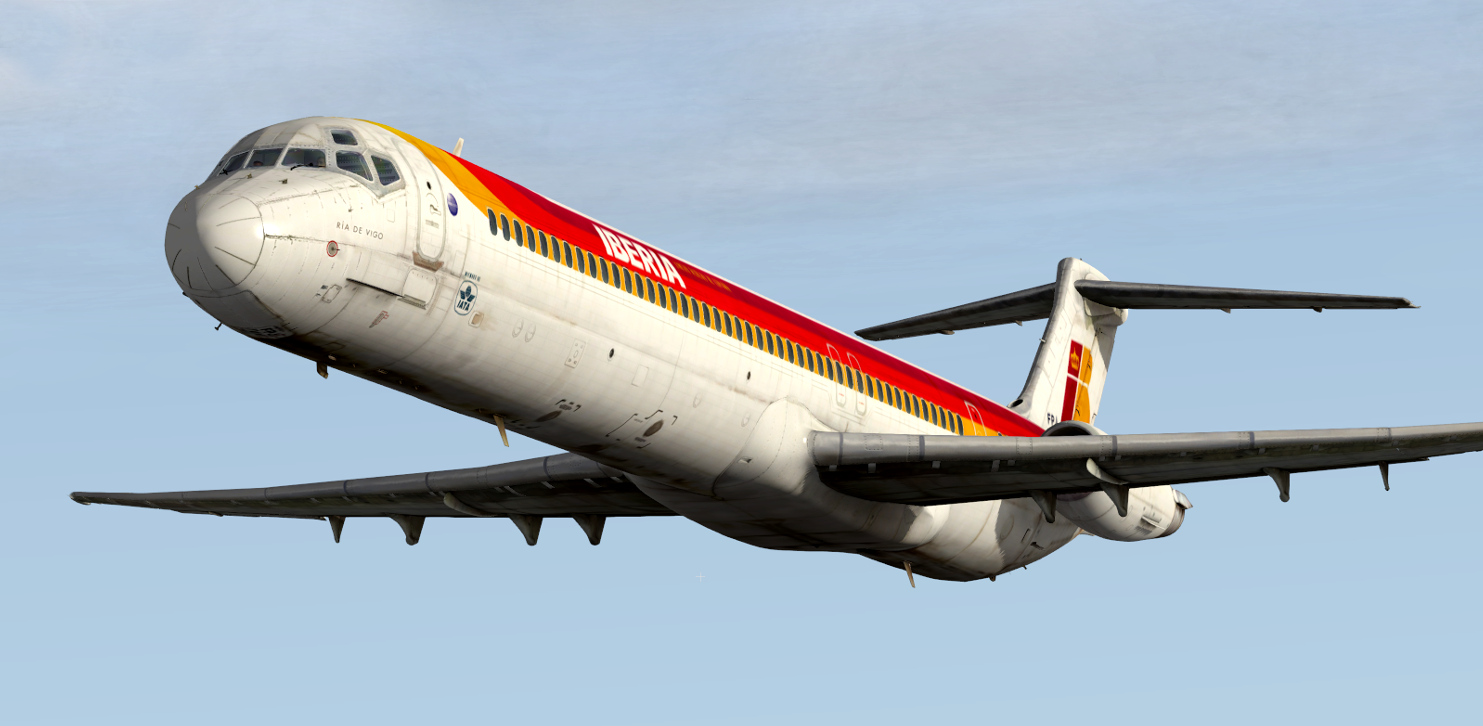 The version 1.11 is now available for purchase (free update for v1.0 owners). It solves most of the issues detected in v1.0 and has many improvements in the flight model, FMC and other systems. You can get it here.
We keep working to include new features in upcoming updates.
Here the list of changes done to this version.
– Beacons are now red, and light sizes adjusted to X Plane 10.42.
– FMS route sequencer improved and compatibility issue solved.
– CDU crash in route edition has been fixed.
– DIR TO routine is now operative.
– CDU function keys delete functionality added ("pick and move up").
– CDU ERASE option added, and corrected EXECute's logic.
– CDU RTE activation logic functionality added.
– CDU Candidates pages ordered by nearest to current position.
– Transition altitude and transition speed restriction logic fixed.
– Transition altitude and cruise altitude selectable from 1000 to 37000.
– CDU altitude XXX format (without FL) now supported for input.
– FMS route altitude and speed restrictions now available in all waypoints.
– T/D calculation improved and available with DISCs in the route.
– FMS route now support airports as waypoints.
– DEP and ARR pages rebuilt and selection logic improved.
– Missing STARs and SIDs issue has been solved.
– Vector and unsupported terminator legs in SID and STAR procedures are shown as DISCs.
– Baro knob manipulator more sensitive.
– Altimeter light logic corrected.
– APU and GPU lights logic corrected.
– TO button now selects the necessary modes automatically.
– Selecting ALT HLD from VNAV mode will enter SPD/MACH SELECT AT mode automatically.
– VNAV is only available if A/T and HNAV are engaged.
– SPD readout shows FMS SPD while in VNAV operation.
– Corrected FMS OVRD behaviour. Only SPD mode is allowed.
– Capturing ILS enters SPD SEL mode automatically.
– VSPEED mode is automatically selected when wheel is adjusted.
– Gear Door Open annunciator's logic corrected.
– Throttle handles are overriden when A/T is engaged, to avoid hardware controller glitches.
– TAS indicator minimum value set.
– Nose light is now off when gear is retracted.
– TAT and RAT now show the correct readings.
– Added GS reading to PFD (when IRS is in NAV and above 10000ft).
– Altitude's warning logic corrected.
– Altitude's FMA annunciator reading correctly.
– Tuned up Vspeeds calculation considering Temp/Alt corrections.
– Tuned up CI ranges and Economy SPD/MACH calculation.
– Adjusted drag.
– Customized airfoil data.
– Tuned up pitch/lift/speed for CLB CRZ DES.
– Corrected speed/attitude in final approach.
– Below G/S annunciator logic corrected.
– APU start up and EGT logic corrected.
– Tuned up engine's N1, N2 and EGT readings.
– Tuned up engine's fuel consumption.
– CSD Temp indicators now simulated.
– Changes in OAP annunciators related to start up and fuel.
– Empty view now available.
– Takeoff flap alarm is now less sensitive.
– Aircraft management page added to plugin menu.
– Adjusted flap handle positions.
– Source selection switches (overhead panel) and corresponding annunciators now interactive.
– Galley power switch now operative.
– GPU toggle is now available through the plugin menu.
– Fixed list filter in ARRIVALS page.
– Random missing waypoints in STARTRANS are now inserted correctly.
– Inhibited the CRZ ALT limit due to performance.
– New CDU warning will be issued if CRZ ALT is over MAX ALT (MAX ALT FLXXX).
– Transition altitude now accepts input formats FLXXX and XXX.
– Landing and nose lights range extended and intensity increased.
– Boarding door position adjusted for AutoGate plugin.
– Glideslope capture inhibits Altitude Alert. Also flaps deployed at or over 28º.
– ALT knob click resets Altitude Alert.
– Adjusted track indication in ND MAP.
– APU EGT bug solved.
– CDT while changing STAR has been solved.
– Resolved bug preventing VIA insertion in last position of the route.
– New CDU alerts END OF ROUTE and DISCONTINUITY.
– NAV and VNAV disengage when these alerts are triggered.
– ART READY annunciator logic corrected.
– TOGA button now keeps the current EPR mode and heading if selected.
– Corrected HDG knob animation.
– APU and GPU frequency readings are now correct in the overhead gauges.
– HDG bug in ND hidden when HDG not available.
– Pitch and roll commands are now less sensitive.
– Adjustment to Vref 28º and 40º in the manual.