Rotate MD-11 v1.0 released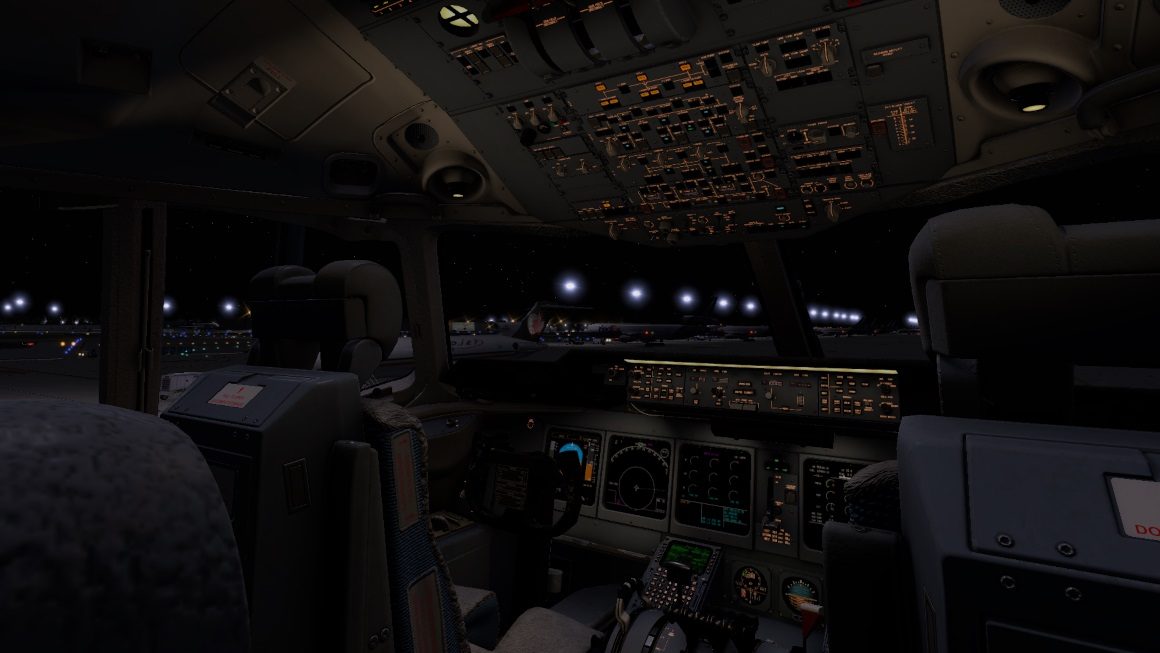 The Rotate MD-11 is an aircraft add-on for Laminar's X-Plane that simulates the original McDonnell Douglas MD-11 Freighter version. It is a fine piece of artwork and an accurate simulation of the classic aircraft. Here is the feature list:
Realistic flight dynamics and performance
In Depth system simulation
All systems listed are simulated according to the specifications of the original model, with all redundancy relevant to the simulation and with both Automatic and Manual modes.
Systems tests simulated

Engine/APU Fire Test
Annunciator Lights Test
Cabin/Cargo Fire Test
GPWS Test
Hydraulic Pressure and Engine-Driven Pump Tests
Oxygen Test
TCAS Test
Weather Radar Test
Emergency Power Test

Air

Air conditioning
Pressurization
Cargo heating/ventilation
Avionics cooling
Air System Display

Aural-Visual Warning

EAD (Engine Alert Display)
SD Alerts and Consequences Display
SD Consequence Page
SD Status Page
SD Miscellaneous Page
CAWS (Central Aural Warning System)
GPWS (Ground Proximity Warning System)
TCAS (Traffic alert and Collision Avoidance System)
Weather Radar

Automatic Flight

Dual AFS (Auto Flight System), FD and ATS (Auto Throttle System)
All FMA modes simulated
Automatic ILS approach with dual/single Auto Land.
LSAS (Longitudinal Stability Augmentation System)
CWS (Control Wheel Steering)
Yaw damper
Automatic pitch trim
Flap limiting
Stall warning with Auto Slat Extend

APU

APU System, Indication and Control
APU Automatic Shutdown
APU Pneumatic System

Communications

VHF communications system
Dual Head Communications Radio Panel
Audio Control Panels
Voice Recorder Panel

Electrical

AC power generation and distribution

Integrated Drive Generator
GCU (Generator Control Units)
APU Generator
ADG (Air Driven Generator)
External Power
AC Distribution (9 Buses)
NBPT (Non Break Power Transfer)

DC power

4 Transformer Rectifier Units
DC Distribution (8 Buses)
Battery and Battery Charger

Emergency Power
Electrical System Display

Fire Protection

Engine and APU Fire Detection and Extinguishing System.
Cargo Fire Detection and Extinguishing System.
Controls and Indications

Flight Instruments

Complete EIS (Electronic Indication System)
Two independent ECPs (Electronic Control Panel)
6 Independent Display Units
Navigation Display (MAP, PLAN, VOR, APPR and TCAS modes)
Air Data Computer
ATC Transponder
Aircraft Clock, Timer and count-down Chronometer
Standby Compass and Standby Attitude Indicator
Standby Altimeter and Airspeed Indicator
Source Input Select Panel

Fuel

Fuel System Controller
Automatic Fuel Scheduling
Fuel Transfer and Crossfeed
Fuel Dump System
Tail Fuel Management System
Ballast Fuel Control
Fuel System Display

Hydraulics

Hydraulic System Controller
Reservoirs and Accumulators
Engine and Electric Driven Pumps
Reversible Motor Pumps
Hydraulic Display

Ice and Rain Protection

Engine Anti-Ice
Airfoil Anti-Ice (Wing and Tail) System
Engine Cowl Anti-Ice System
Air Data Heaters (Pitot, Static, TAT)

Navigation

FMS (Flight Management System) Simulated pages:

A/C STATUS (2 pages)
REF INDEX
FLT-PLAN INIT
WEIGHT INIT
FUEL INIT
PERFORMANCE CLB, CRZ & DES
THRUST LIMITS
FLIGHT PLAN (2 pages)
VERTICAL/LATERAL REVISION
DIRECT-TO
PROGRESS
TAKEOFF / APPROACH
SID FROM
STAR TO
HOLD
NAV RADIO
FIX INFO
NAVAID
POS REF
IRS/GNS
CLOSEST AIRPORTS
SENSOR STATUS
DEFINED WAYPOINT
LAT/LONG and P/B/D WAYPOINT
WAYPOINT
MENU
MCDU Messages

GNSS (Global Navigation Satellite System)
LNAV/VNAV flightpath calculation
Takeoff and Landing performance calculations (V-speeds)
IRS (Inertial Reference System)
VHF, DME, ADF and ILS Navigation

Engines (General Electric CF6)

FADEC (All regimes simulated)
Custom engine model
Primary Engine Display
Secondary Engine Display
More than 200 custom failures
Dual cockpit
Independent pilot and copilot controls and displays.
Two independent MCDUs control two independent FMCs.
Sources of instruments can be selected for pilot and copilot independently.
All relevant systems have separate controllers for redundancy.
Accurate 3D model and HD textures
External objects and detailed animations
Aircraft loading animations
Cargo loader and cargo truck
GPU
Airstairs
Cockpit window animation
Cargo Doors
Fully animated landing gears
Winflex
Engines reversers animation
Aircraft Menu
Options
Situations (C&D, Taxi and Takeoff presets)
Load Manager
Ground Operations
Failures
Realistic 3D sounds
Detailed sounds with real cockpit sources and FMOD dynamic effects
3D  lights, including:
Exterior lights
Cockpit lights

Panel lights
Flood lights
Dome light
Reading lights
Briefcase lights
Floor lights
Map lights

Cabin lights
10 Liveries
Rotate livery
Avient Aviation
EVA Air Cargo
FedEx
Lufthansa Cargo
Martinair Cargo
Shanghai Airlines Cargo
UPS
Varig Log
Western Global Airlines
White livery
VR Support
(Limited VR controllers support: Yoke and 2D windows are not operational for now)